Valio is a well-known Finnish company that has provided opportunities to grow as a professional for many. We interviewed three experts in their own fields about their journey through the company and why being a Valio trainee was a career-changing experience.
Aino Aho: From a trainee into a Marketing Manager
"I've always been interested in many things rather than focusing on one single subject," Aino recalls.
She started as a trainee at Valio 3,5 years ago and has already aced four different marketing roles during her time. Today she's responsible for the marketing of food brands such as Oddlygood and Valio's most renowned traditional juice product families.
"I came here with the goal to learn from people who are smarter than me—it has been a very fruitful approach," she says.
Aino was surprised how extensively Valio's work affects the life cycles of food products, all the way from production lines to the consumers' tables. It has helped her gain a deeper understanding of marketing in the food industry.
"I've learned a ton about how the primary production can affect our team and what we can bring to the table there."
The most memorable moment happened when she was working as a Marketing Planner and was recalled to the launch project of the PROfeel brand in Spain. Her Spanish skills were so impressive that she eventually found herself hosting the PR event and talking to the local influencers.
"It was really exciting to get a chance to fly there along with our brand manager and the export team to spread the Valio word!"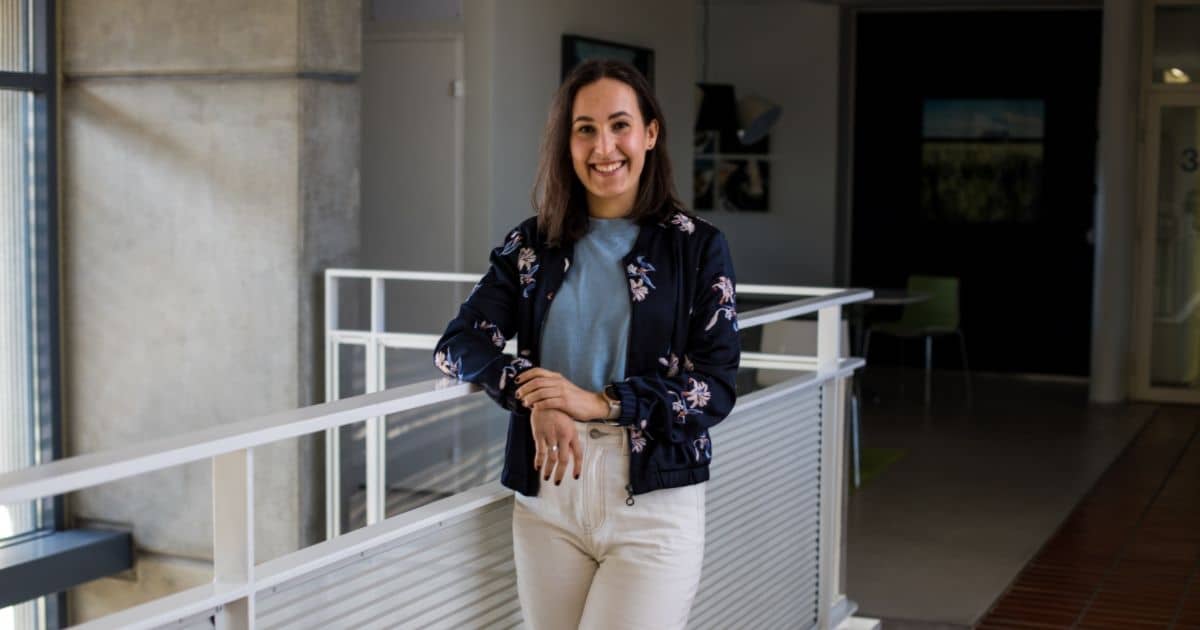 The chance to work in an international environment was the biggest reason Aino applied to work at Valio. By communicating her passion and goals to her superiors, she has received the right kind of support and direction in her career.
"My manager asked me regularly what I was working on, which of the tasks felt most interesting to me and which way I wanted to develop."
She encourages those who are interested in applying to the Valio Trainee Program to express their interests and strengths. Her passion for the food industry and the desire to learn have been keys to success ever since Aino started as a trainee.
"They saw the potential in us, rather than a readymade package," she reflects.
Lari Jyrhämä: From a summer trainee to an HR Specialist
Lari formed a bond with Valio at a summer job years ago. However, his Valio career got a full kickstart when he made his Master's degree at the company and was hired as an HR trainee in the fall of 2020. Since then, he's already been promoted to HR Specialist.
"I'm interested in food products and their innovations," Lari explains.
"I like the way Valio has been able to renew and develop over time. We are a Finnish company owned by local farmers, but we produce new, strong brands to international markets."
In his job, Lari often collaborates with all five Valio subsidiaries and his foreign colleagues. Even the country teams are miles apart, the people clearly belong to the same group.
"We organize training and coaching sessions, and share information constantly."
According to Lari, the best thing about working at Valio is the chance to have a say in his role and responsibilities. Thanks to this, he has focused on his strengths at developing people and ways of working.
"Every great vision or idea needs the support of experienced colleagues so that you can form it and present it in the right way," Lari reflects.
He is fascinated by a career in business development and strategic planning. Thankfully, he has been given chances to develop and steered towards the right opportunities.
"My manager listens to what I'm saying about my work and can recommend new ideas and tasks which help me expand and supplement my skills."
"I've been working here 8 months and when I said I wanted to take ownership of our trainee program, I was given the chance straight away," Lari says.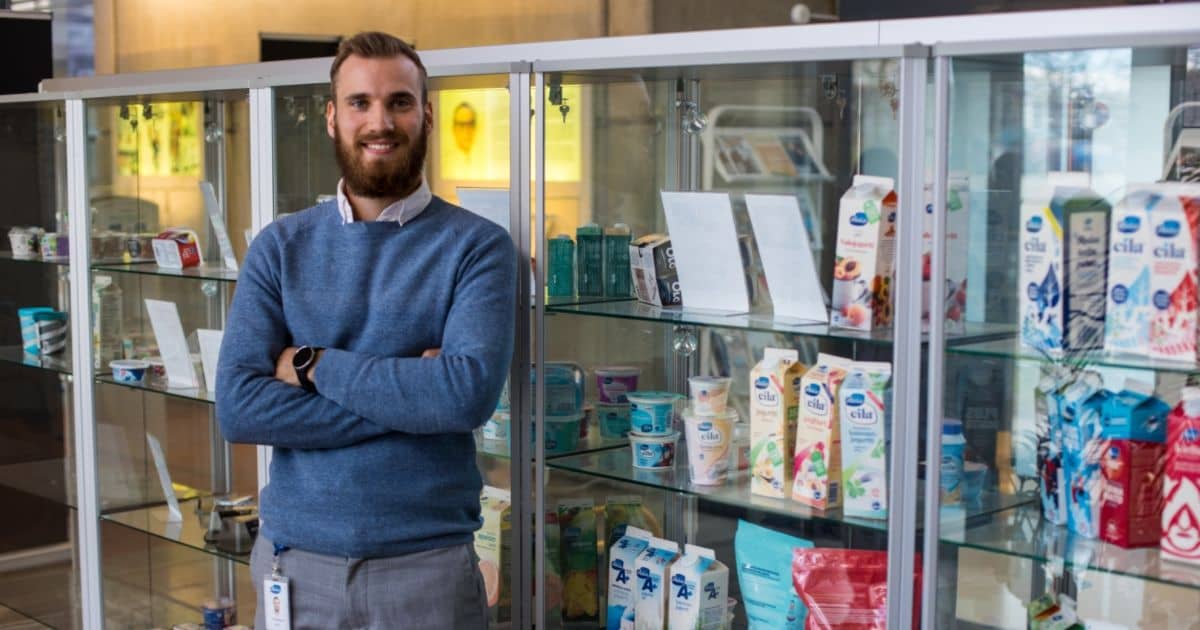 He feels that the best moments at work happen when he sees his own work influence other people. The most important thing for him is to help his colleagues succeed.
"The biggest achievement for me personally is when someone says thank you."
Lari says that the foundations for his expertise in the people operations field is built by combining different pieces of information. The ability to apply diverse knowledge gives him the confidence to cope with every challenge.
"A pyramid is wider at the bottom and narrower at the top – if you build it straight up, it will fall in the wind," he says.
Jussi Mattsson: From a trainee to Senior Vice President
Senior VP Jussi Mattsson boasts the most experience out of the interviewees – his Valio career started 14 years ago. He had a clear idea of the way he wanted his career to go at the company.
"I felt I was a salesman first and foremost," he recalls.
After the trainee program, Jussi found his place at the domestic sales team, where he spent the first years of his Valio career. His responsibilities grew steadily over time, and he eventually took over the company's biggest client accounts. Then, the opportunity came to expand his expertise beyond sales as a product manager for yogurts.
"I wanted to understand our company more profoundly and thought it was a smart move to jump into business development."
In hindsight, it indeed was a smart move, especially if you wanted to become a Senior VP like Jussi! His biggest career learnings have come from the desire to challenge himself. He has found new and inspiring sides from his work by jumping into new roles and environments.
"I'm inspired by the opportunity to build something new and drive change. Building a team and inspiring them success is more important to me than working at a specific business function or category."
Jussi says the Valio community's greatest strength is collaboration. The ideas for new products, solutions, and market strategies are born out of teamwork.
"When we see a trend arise in Finland or abroad, we put our heads together and figure out what they could mean in our context," Jussi explains.
The trainees too will have every chance to bring in their own ideas. For example, those joining the company's product and business development teams will get a chance to take part in the development. In this sense, Valio hasn't changed through the years Jussi has spent in the company.
"Trainees will be given opportunities to delve into their work," he says and thinks this is the main reason for his extended stay in the Valio family:
"I have been comfortable here for this long because I have always found interesting challenges and something new to learn."
Indeed, the best opportunities to succeed are the result of curiosity, passion, and the willingness to learn. According to Jussi, the Valio team will take care of the rest in your path of becoming a skilled professional.
What is the recipe for success for a Valio trainee?
Aino: "Be yourself, sincere, and brave."
Lari: "Bring out your strengths, don't be discouraged by adversity, and dare to ask. In order for us to succeed and innovate, someone needs to ask questions."
Jussi: "Things don't have to be taken for granted. Curiosity and a desire to understand why things are done in a certain way will help you succeed."
What binds your work community together?
Aino: "Cooperation is the driving force behind everything we do. I still haven't met a single colleague I couldn't get along with – it's almost alarmingly great to work here!"
Lari: "Everyone knows their own contribution to the whole and we respect each other."
Jussi: "We understand the significance of our work. Our products are close to people's basic needs and everything is, in the end, done in the interests of other people."
What's the best advice your colleague gave you?
Aino: "My former colleague encouraged me to bring out and highlight the skills that set me apart from other people at work. I speak many languages—why cover that up? When you bring out your strengths, other people will be able to spot the potential in you that you hadn't found out yet."
Lari: "Ask, listen and communicate – never stop asking questions and listening to others. When we stop doing that, we will no longer be working for Valio, but for ourselves."
Jussi: "Even though things get hectic sometimes, everything's going to be alright in the end. You can make a huge difference in the situation just by yourself."
Describe your Valio career in one word!
Aino: "Encouraging."
Jussi: "Diverse."
Lari: "Exploration."
Interested in a career at Valio?
Great news! Valio is looking for nine new trainees. Learn more about the contents of the trainee program and the open positions from Valio Trainee home page.