At Aktia, digital innovations in the banking and financial sector are at the core of the business. Even though work can be responsible and challenging, it hasn't come at the cost of good vibes and great team spirit. We chatted with Junior Business Analyst Elina Uotila and Junior System Specialist Janne Mustonen about what makes their work interesting and why you should apply to summer jobs in Aktia.
Tell us about your roles a bit. What's on your to-do -lists during a typical week?
Elina: Many things! I work at the Digital Solutions team, where we develop our digital channels. I define processes, document backlogs for development, and help our designers improve the user experience of our channels. As a data specialist, my job is to discover and report any information that's useful to the project. Other times I might also take on a scrum master role on projects or design content for the Aktia website.
Janne: My role in the TechOps team includes maintaining and monitoring the different software systems we have in place at Aktia. I've been getting involved in installing new network systems into our renovated offices around Finland, which has been very interesting.
Sounds like you have plenty on your plates! Have you had the chance to influence your roles in the company?
Elina: I have been given opportunities to take part in different projects and assignments based on my interests. By being active I've been able to influence my job duties.
Janne: Our superiors often ask us about what we would like to learn. This way I have found my way into areas of expertise that seem a good fit to me.
You both started at Aktia as summer trainees. What was it like to come into the work community as a newcomer?
Janne: The first days were exciting, naturally. I was new to the industry but had the luxury of sharing the experience with other summer trainees who were in the same situation. I didn't feel at any point like I was left alone, because we had more seasoned colleagues in our team making ourselves feel at home. It was easy to get to know the rest of the community through them.
Elina: It was easy to get to know my teammates. I joined the community when everyone worked remotely, so it took a little longer to get acquainted with the rest of the people. I found it helpful that I also shared the experience with another summer trainee under the same circumstances. It was a lot nicer to onboard together.
Summer trainees at Aktia do a lot of things together, on and off work. Has that made working at the company more fun for you?
Elina: We get to spend a lot of time together with each other, not just with summer trainees but the rest of the colleagues too. Knowing people's personalities a bit more is very important to me. Shared activities are the best way to nurture our team spirit.
Janne: I think it brings people together very well. Different events help to get to know even those colleagues, who we don't see during a typical workday. It builds a feel-good attitude around the company.
What is the best thing about your job right now?
Janne: We have a really good vibe going on at the tech team! People help each other out and there's good communication inside the team. I also think my job is interesting and it supports what I'm studying well.
Elina: Same here: my team and colleagues are the best – I have friends outside my team too. I like that my role varies a lot and that I've had a chance to take part in interesting projects. It's a really good combination with my studies in industrial engineering and data science.
What have you learned during your time at Aktia?
Elina: I've gained a deeper understanding of the banking and finance industries. Being involved in digital development projects, I have also learned new things about software development and Aktia's IT architecture in general.
Janne: During my time I've delved into the technical aspects of my work. Sometimes it has required some self-education, but that hasn't impacted work. I've also gained a better understanding of the banking industry.
Elina: We have been able to grow from students to experts in our fields. Our project management and soft skills have improved immensely during this time.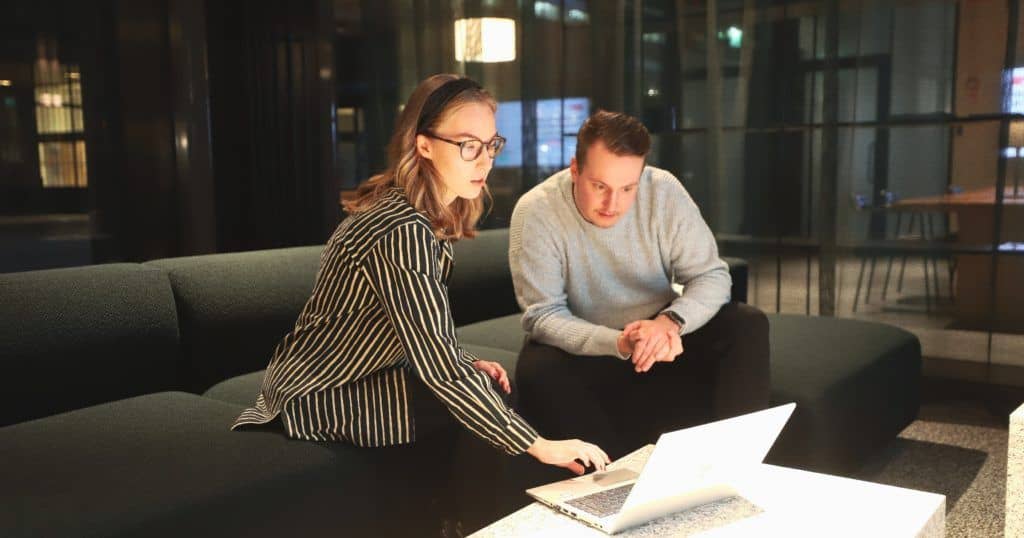 Those are all really important skills in work-life! What has been your best moment at Aktia?
Janne: The best moment was obviously when I found out I got the job! A feeling of expertise with different software systems has grown on me slowly but steadily, which is awesome.
Elina: I've had a lot of small successes along the way and it's always nice to get noted by colleagues when that happens – I think it's important that those things are said out loud. We have a lot of fun with our team.
What advice would you give to those applying to Aktia summer traineeships?
Janne: You can apply with your CV only, which is a huge plus in my opinion. If you get invited to the recruitment event, be prepared to chat with our executives and managers. Being your honest self and striving to give a good impression will get you far!
Elina: Get your resume out and ready. When you're at the event, just be yourself and everything will go just fine!
If you want to join a community where working together with a friendly, feel-good attitude is considered a strength, Aktia might just be the place for you. Apply now to the AktiaSummer recruitment event by sending us your CV!