Small Giant Games is best known for their hit mobile games Puzzle Combat and Empires & Puzzles. The success of their games has helped the Helsinki-based company establish its place in the global mobile gaming map. However, what goes on in their office perimeter has so far been somewhat of a secret to wider audiences.
Releasing commercially successful mobile games requires a great team of people and a supportive work culture. That's why we struck up a conversation with Gabriela, Pierluigi, and Justin from Small Giant Games. We wanted to uncover what the daily life behind the scenes of a successful game company looks like.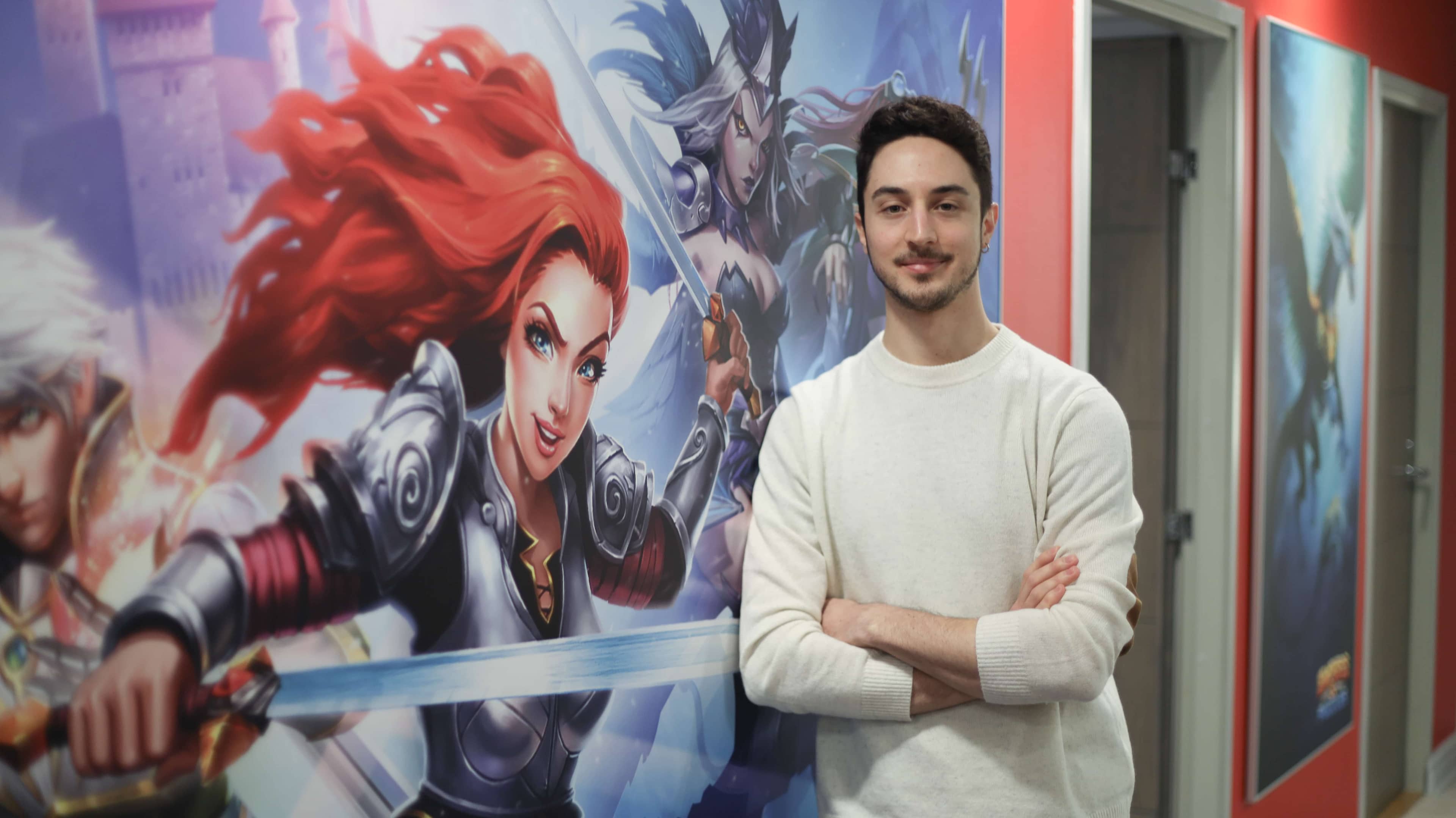 Senior Software Developer Pierluigi creates new features to delight players
"I am a software developer mostly focused on developing new features for Empires & Puzzles. Prior to joining Small Giant Games I did not have a lot of game development experience. However, we have such a strong mentoring culture here, that it didn't take long for me to get up to speed. Being able to learn from people with decades of real experience in the industry has been an amazing opportunity.
The most satisfying thing for me is to see our players interact with the features I created. As developers, we do not just get lists of things to do, instead game designers approach us with an idea and together we find solutions to make it happen. The workflow evolves all the time – we bounce ideas back and forth with designers and other teams which allows for quite a lot of creative freedom.
I think working as a developer here is fun – there are fun problems to solve, lots of learning opportunities, very little bureaucracy, flexible schedules, no crunching, and amazing colleagues. If there is a problem, I know that everybody will get together to find a solution."
See also and apply now:
UI Developer @ Small Giant Games
Technical Artist @ Small Giant Games
UI Artist @ Small Giant Games
2D Animator @ Small Giant Games
QA Specialist Gabriela makes sure the play never stops
"I work mainly on Empires & Puzzles, taking care of the quality of the game and helping execute new releases. My job is to hunt bugs on new and existing features, thinking about player perspective when testing them and creating Betas for players.
When our developers create a new feature for the game, we at QA check that it works technically and that it integrates well with existing content. I feel that I get to do a lot more than a typical QA Specialist would – not just tickets and reporting bugs like in my previous jobs. Besides making sure that the game works I get to do the actual release of a version and create betas for the players. Our Beta program is a great help for QA, since players might notice bugs that we didn't. When a new Beta version is released, we launch it to a selected group of players and collect feedback about the gaming experience and possible bugs for investigation.
I love doing QA because I like figuring out how software works and then trying to break it. Our small QA team aims to catch all the bugs, but of course the more features we have the harder it gets. So when bugs do slip into the live game, there is no blaming, we just try to improve the process so that we catch them next time.
Our team at Small Giant Games feels like a family and the management really cares about our well-being. It can be typical in this industry that companies push out new features at the expense of the staff's spare time, but here we have nothing like that. I feel like a valued member of the team and that I am being looked after. It has been my dream to work at a gaming company so I feel very thankful to be here."
See also and apply now:
QA Specialist @ Small Giant Games
Junior Data Analyst @ Small Giant Games
User Acquisition Specialist Justin introduces new players to the games
"I am a User Acquisition specialist from New Zealand. Before joining Small Giant Games my experience was in the field of accounting but I always had a great passion for gaming. With the help of a highly supportive and experienced team, I was able to learn about the world of mobile marketing which shaped me to the professional I am today.
My day-to-day involves running marketing campaigns for both Puzzle Combat and Empires & Puzzles through various networks. It also includes a lot of experimenting on the creative side and trying to figure out new ways to bring people into the games. I thoroughly enjoy my role as a UA specialist, the multifaceted aspect of the job is truly what excites me the most. From analyzing the performance of our marketing efforts to communicating with partners in different parts of the world, no day is the same!
Nailing down the best thing about my job is pretty difficult because in my opinion, this is the greatest place that I have ever worked at. I feel lucky to have the freedom to test new things and get support from the more senior experts who have been in the marketing field for numerous years. Working here as a UA specialist is extremely rewarding. The trust and camaraderie is something which truly makes Small Giant Games a special place to work at that fosters a feeling of equality."
See also and apply now:
Creative Producer @ Small Giant Games
Graphic Designer @ Small Giant Games
Whether you are an up-and-coming developer, analyst, designer, animator or marketer, Small Giant Games has a number of career opportunities for you! If you feel like joining Gabriela, Justin, Pierluigi, and the rest of their inspiring and trusting team, check out all the open positions and apply now!
Open positions at Small Giant Games