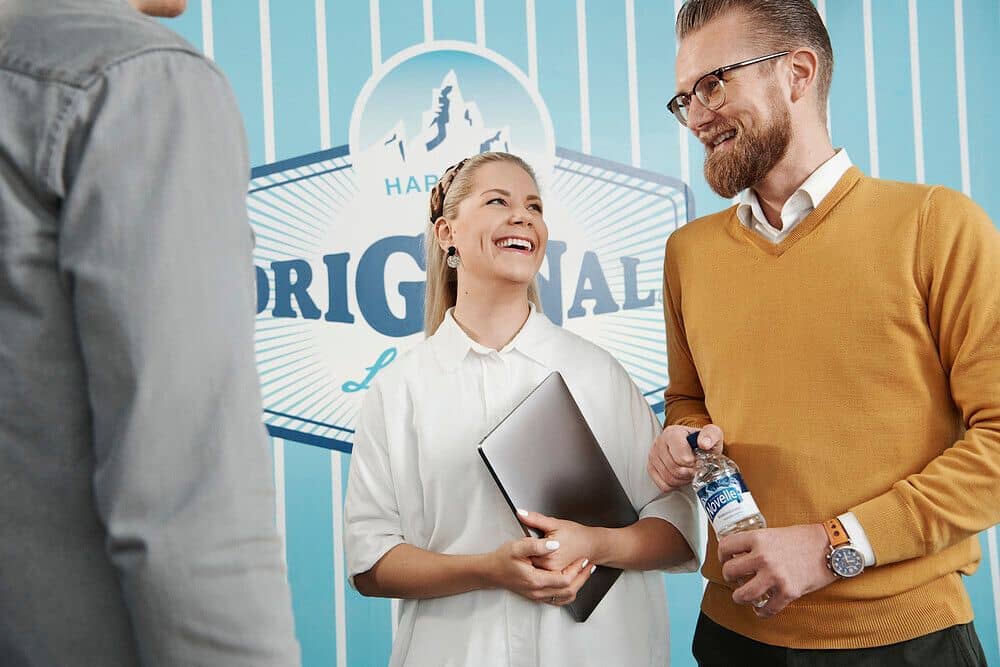 Case study
Receptum
Hartwall
We have been a strategic recruitment and HR partner for Hartwall since 2017. With our support, Hartwall has improved its position in the Universum Employer Branding ranking by more than 20 places over the past few years.
The core needs we have addressed
Attracting young talents
Hartwall relied on our knowledge of the target audience to determine how employer branding should be developed to attract and engage early-career talents. This resulted in the creation of the Hartwall Career Brewery Graduate Program.
Empowering recruitment
We implemented efficient recruitment processes for the quick hiring of business and engineering professionals without compromising on candidate quality and experience.
Developing HR
We helped fill a temporary resource gap in Hartwall's HR team and created practical solutions for performance management, compensation, and employee experience, and supervisor development.
Hartwall Career Brewery: Conceptualization, Launch Support, and Recruitment Leadership
Hartwall invited us to develop ways to attract and engage young talents, working together with the executive team and the employer brand strategy team. The result was a two-year Graduate Program named Hartwall Career Brewery.
We were responsible for program conceptualization, target audience definition, and recruitment process planning. We launched the program in crucial channels for the target audience, including university campuses across Finland, recruitment fairs, and social media, to attract candidates to the recruitment process.
The job roles for Graduates were designed to be versatile, allowing them to develop their expertise and become an integral part of the organization from the start. The employment contract is permanent from the beginning.
We manage the recruitment process and support recruitment marketing for the program each year. We also assist HR with suitability assessments and selection decisions on Assessment Day.
Despite high standards, the program attracts many excellent candidates with diverse backgrounds. Each year, the program selects the top 1-3 candidates for commercial and production roles.
HR Partnership for Employee Experience and Performance Management Improvement
An aTalent HR consultant supported Hartwall's HR team in addressing challenges related to performance management, goal setting, and compensation development.
As a result of the consultancy, a new performance management framework was implemented as part of the organization's practices in a new HR system. Additionally, a company-wide compensation review process was carried out using the new HR system.
Interview Training for Hartwall's Supervisors
The purpose of the training was to equip supervisors with the skills to make the best possible recruitment decisions and conduct recruitments in line with Hartwall's strategy.
The training included learning competencies-based interview techniques to assess candidates' skills, behaviors, and potential. The training consisted of both theory and practical small-group exercises facilitated by aTalent.
Highlights of our collaboration with Hartwall
Employer Branding Work:
Launch of the Career Brewery Graduate Program in 2019
Effective marketing campaigns that significantly increased the program's and Hartwall's product visibility, including "Golden Ticket" product rewards for advancing in the recruitment process
Preparation work for brand building was undertaken as Hartwall's marketing team took responsibility for the program's branding efforts
Recruitment Work:
100% hit rate in Career Brewery recruitments from 2019 to 2023
202 job applications for Career Brewery in 2023
Over 1,200 visitors to Career Brewery's campaign pages and job advertisements in 2023
HR Consultation Highlights:
Implementation of a performance management framework throughout the organization
Conducting a compensation review process in the new HR system
Training supervisors for strategic recruitment
HR consultation collaboration with Hartwall continues
Roles recruited for Hartwall over the years include:
HR Talent Partner
HR Specialist
Junior Business Controller
Junior Product Manager
Hartwall Ambassador
Services used by Hartwall
Get in touch with us
We will be happy to answer any question you have!